Easy-Care Succulent Plants From simple-to-care-for succulent plants displayed in stylish containers to colorful mini cactus plants and on-trend terrariums, it's more fun than ever to bring the beauty of nature inside with our unique succulent gifts.
DISCOVER SOME DIFFERENT VARIETIES BELOW & FIND YOUR FAVORITE!
There are many types of succulents in different shapes & sizes. Indoor succulents are a popular choice for decorating homes and offices because they are slow-growing, low-maintenance and they're very adaptable to temperature & light. They are native to rocky grounds with few nutrients, and their small root systems allow them to absorb and store water in their leaves.
ALOE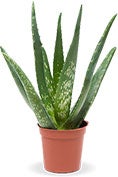 Found in arid regions in tropical Africa.
Appearance: Spikes of brilliant flowers from spring through fall
Size: Ranges from small window sill plants to trees
Maintenance: Low; water when soil feels dry
Sunlight: Full sun
Best Known For: Aloe Vera variety, which stores large amounts of water, nutrients and medicinal compounds in its leaves.
Other: Easily propagated from plantlets that form at the base and replace the mother plant.
CACTUS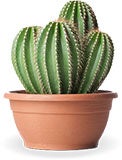 Found in the Western Hemisphere.
Appearance: Elaborate stems with spines instead of leaves
Size: varies
Maintenance: Low; water only when stem starts to shrink
Sunlight: Full sun
Best Known For: Their water conservation and heat tolerance.
Other: Blooming times are dependent upon environmental signals
CRASSULA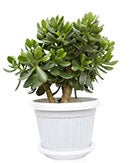 Found in South Africa.
Appearance: Dark green plant with white-pastel flowers
Size: varies
Maintenance: Low
Sunlight: Full sun
Best Known For: Jade Tree or Mini Jade
Other: Drought tolerant and adaptable to varying temperature and light levels
ECHEVERIA

Found in arid regions in Mexico, Central and South America.
Appearance: Varies by type, produces side shoots along the base called "hens and chicks"
Size: varies
Maintenance: Low
Sunlight: Partial or Full sun
Other: Flowers in the spring and fall seasons
HAWORTHIA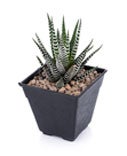 Found in South Africa.
Appearance: Tall stems of tiny lily-like blossoms
Maintenance: Very low; can live up to a year without water
Sunlight: Partial or Full sun
Other: Drought tolerant, easily propagated by the removal of plantlets at the base of mature plants
SEDUM

Found in the Northern Hemisphere.
Appearance: Spikes of yellow-green or green in spring and summer
Maintenance: Low; less tolerant of warmer temperatures
Sunlight: Full sun
Best Known For: Working well in rock gardens, outdoor planters, and indoors under lots of light
Other: Easily propagated by cutting off a piece and replanting it